Radny PiS Andrzej Aleksandrowicz poprosił o przygotowanie zestawienia liczby mieszkańców i nakładów inwestycyjnych na poszczególnych osiedlach Płocka. Właśnie pojawiła się odpowiedź urzędu miasta. Jak wyglądają te dane w przeliczeniu na jednego mieszkańca?
Przygotowaliśmy małe zestawienie, które – statystycznie – pokazuje, jaką kwotę zainwestowano w poszczególne osiedla na przestrzeni lat 2011-2014. Biorąc pod uwagę tylko kwoty inwestycji, największą kwotę przeznaczono na osiedle Stare Miasto – ponad 60 mln zł. Drugie jest osiedle Trzepowo (blisko 54 mln zł), kolejne to Międzytorze (ponad 28 mln zł) i Wyszogrodzka (ponad 20 mln zł).

Jeśli przeliczymy kwoty inwestycji na ilość mieszkańców, zestawienie wygląda nieco inaczej. Na pierwszym miejscu znajdzie się wówczas osiedle Trzepowo z kwotą ponad 67 tys. zł na mieszkańca, a to zapewne szczególnie ze względu na ilość mieszkańców (zaledwie 795 osób, wg stanu na wrzesień 2014) oraz tego, że do osiedla Trzepowo zaliczono np. modernizację ul. Otolińskiej czy Targowej, bo tak wynika z podziału miasta. Podobnie jest na Starym Mieście, gdzie tę kwotę mocno zawyżył remont LO im. S. Małachowskiego.

– Część zadań budżetowych ma charakter ogólnomiejski i swoim zakresem obejmuje teren całego miasta, np. "Tereny rekreacyjne i parki osiedlowe", "Budowa i modernizacja oświetlenia oraz elementów bezpieczeństwa ruchu drogowego", w związku z czym nie jest możliwe wyodrębnienie z tych zadań dokładne kwoty przypadającej na poszczególne osiedla – tłumaczy wiceprezydent Jacek Terebus. – Pragnę również zwrócić uwagę, iż wartościowanie poszczególnych osiedli, przy tak dużej ich liczbie, często diametralnych różnicach w ich zagospodarowaniu i zaludnieniu oraz okresie, w jakim odbywał się ich rozwój, nie powinno być próbą różnicowania mieszkańców miasta – dodał.
Wiceprezydent wyjaśnia także, iż wiele inwestycji wykonywanych na konkretnym osiedlu, ma podnieść jakość życia wszystkich płocczan, również i tych, mieszkających w innych częściach miasta.
A jak wyglądają pełne dane statystyczne? Zobaczcie w tabelce poniżej.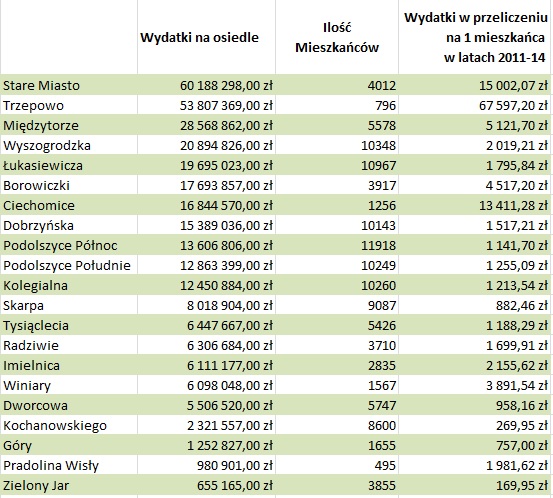 Przypomnijmy, że w tym roku największą pulę pieniędzy na inwestycje przydzielono osiedlom Stare Miasto, Kolegialna, Podolszyce Północ, Radziwie i Wyszogrodzka.