Pokazuje 1 z 1
Za kulisami musimy się zmieścić z rekwizytorami, montażystami, elektrykami i aktorami.  Ale i tak jest kocioł, jak schodzi dziesięciu aktorów naraz i trzeba każdemu pomóc się przebrać, zmieniać makijaże, fryzury… Tam nie ma dużego oświetlenia, są tylko niebieskie przypodłogówki. My tu, jak krety – wszystko w ciemności.
Miejsce: Teatr Dramatyczny w Płocku.
Czas: 21 marca 2013.
Okoliczności: próba generalna "Ślubów panieńskich".
Za kulisami, zaraz przy pokoju garderobianych, słychać odgłosy ćwierkającego ptaka, chyba papużki.
– A gdzie on jest? – pyta jakaś kobieta.
– Ten ptak? A tutaj, obok nas. Zaraz go wezmą na scenę. Przenieśli go tu, żeby się nie denerwował – odpowiada Elżbieta Jóźwiak, garderobiana z 38-letnim stażem. – On należy do naszego kolegi z działu administracyjnego, który ma całą ptaszarnię; jest pasjonatem.
Ale w naszym teatrze, to cała menażeria grała! Dwie kozy, owce, gęś, pies, koty… Był rekwizytor, który się tym zajmował. One miały tutaj luksus, miały wszystko. Były przywożone na spektakl i odwożone.
Te zwierzęta siedziały na scenie! I gdakały, i gęgały, i robiły co chciały. Mieliśmy też kota, który nazywał się Tener i on autentycznie grał! Za każdym razem robił to, co powinien robić, schodził ze sceny i sobie szedł. Był też pies, któremu w spektaklu robili operację, a ten leżał jak nieżywy.
Akt I
Dusza
Płock był jednym z pierwszych miast w Polsce, które miało swój teatr. Jego historia rozpoczęła się w 1812 roku. W 1940 roku hitlerowscy okupanci zburzyli budynek. Teatr w obecnej formie funkcjonuje od 1975 roku. Od tamtego czasu z teatrem związana jest także Elżbieta Jóźwiak, która jako jedna z nielicznych dostała pracę w nowej instytucji. Została garderobianą.
Pracowała najpierw w ówczesnym Domu Kultury, który miał siedzibę w tym miejscu. Kilka miesięcy później reaktywowano Teatr Płocki, a w 2006 roku stracił on swoją dawną duszę. Przynajmniej wielu tak twierdzi. Wtedy to rozpoczęła się jego przebudowa.
– Ten wcześniejszy, to duszę miał… Ta dusza była fajna… Tajemnicza… – pani Elżbieta rozpływa się przy wypowiadaniu tych słów. – Jak przychodziłam do starego teatru, to było wręcz czuć ten klimat. Wszystko było w jednym miejscu. Aktorzy zawsze byli przy naszych drzwiach. Teraz? Ich garderoby są piętro wyżej, te korytarze są długie i bez charakteru. Trzeba się nalatać. Ale myślę, że ten też się wyrobi i duszę będzie miał.
W starym teatrze to wiele rzeczy się działo… Jakby to powiedzieć, ludzie sobie różne rzeczy wyobrażali. Chodziła taka historia aktora, który tutaj pracuje też ze 35 lat już. Mianowicie, z Witkiem w starym "Piekiełku" [najmniejsza sala teatru – przyp. red.]pracowała kobieta, która zginęła w wypadku autobusowym w Szczecinie. Witek miał któregoś wieczoru monogram, to chyba była próba generalna. On stamtąd wychodził i przy starym sekretariacie zobaczył postać, do której oczywiście mówił, a ona zniknęła. Wtedy ja byłam przy obsłudze spektaklu i razem z akustykiem i panią portierką polecieliśmy zobaczyć, czy może faktycznie ktoś tam jest. Od tamtego czasu zawsze się mówi, że Władzia biega po teatrze i puka obcasami, bo ona właśnie chodziła zawsze w butach na obcasach…
Akt II
Teatroteska
Scena I: Ania z zieloną twarzą
– W przedstawieniu "Ania z Zielonego Wzgórza" aktorka musi mieć w jednej scenie zielone włosy. Podczas prób generalnych pan dyrektor stwierdził, że nie ma tej zieleni – opowiada Jadwiga Foryszewska, kierowniczka pracowni fryzjersko-perukarskiej. – No to przed premierą "przyzieleniłyśmy" tę perukę. W trakcie spektaklu aktorka zakłada perukę i ona w tej scenie zakrywa się kołdrą. Odkryła się i wszystko poleciało jej na twarz. Dosłownie zzieleniała! Za kulisami szok, myślałam że dyrektor to mnie zabije. Nie wiadomo było co robić, bo ta aktorka za chwilę musiała wychodzić do następnej sceny w innej sukni i powinna być czysta, a tego się nie dało wyczyścić! Akustycy dzwonili do nas wtedy i pytali: "Dziewczyny, co wy jej zrobiłyście? Przecież ona ma całą gębę zieloną!", a my odpowiadałyśmy: "Jaką zieloną? To światło wam tak pada".
Musiała tak grać do końca. To była dodatkowa atrakcja premiery. Ta farba dopiero na drugi dzień się zmyła…
Scena II: Mistrz i garderobiana
– Z kostiumami też były historie niesamowite – mówi Elżbieta Jóźwiak. – W latach 80. wystawialiśmy spektakl "Mistrz i Małgorzata" w adaptacji Andrzeja Marii Marczewskiego. Na te przedstawienia przyjeżdżały całe pielgrzymki, cały plac był zawalony autobusami.
Spektakl trwał pięć godzin. Kostiumów to były setki. Jeden aktor grał po sześć postaci. Więc wiadomo, że były zmiany kostiumowe. Zaczyna się tzw. "bal u szatana" – jedna z najbardziej widowiskowych scen. A pani garderobiana, jak zgasły światła, się zdezorientowała i przeszła z tymi wszystkimi kostiumami przez środek sceny w momencie, kiedy światła się zapaliły.
Scena III: Kopciuch
– Wiele, wiele lat temu, jak zaczynałam pracę, to byli aktorzy, którzy mieli tzw. kindersztubę. To teraz już takie niemodne, wyświechtane, jakieś tam stare słowo. Ale oni to mieli. I nie było tego dystansu między zespołem technicznym a aktorskim, który stworzył się teraz. Jeśli chodzi o stosunki międzyludzkie, to tutaj najważniejsza jest jednak kultura osobista i tyle.
Im większy aktor, tym mniejsze mniemanie o sobie. Do nas często przyjeżdżała Hanka Bielicka, która miała dystans do wszystkiego. Zawsze nosiła kostium zarzucony na plecy. Pewnego dnia do jakiejś młodej aktorki, która miała muchy w nosie, powiedziała: "Słuchaj, ty grasz kopciucha. Zachowuj się, jak kopciuch".
Scena IV: Nie tykaj sznurka
– Każdy sznurek w kulisach ma swoją rolę. Kiedyś, też na "balu u szatana", była taka szklana kula odbijająca światło. Nikt z nas nigdy nawet nie pomyślał, żeby czegokolwiek dotknąć. Ale stał nowy kolega i wystarczyło, że tego sznurka, który utrzymywał tę kulę, lekko dotknął. W momencie, kiedy aktorzy dali krok do przodu, kula spadła i rozbiła się w drobny mak. Ludzie myśleli, że to ma tak być. A wszyscy za kulisami zamarli. Odtwórczyni roli Małgorzaty była na boso, to ze sceny zeszła z pociętymi nogami.
Akt III
Praca
– Aktorzy przychodzą godzinę przed spektaklem, my godzinę przed aktorami. Więc, jak rano jest spektakl jesteśmy tu na ósmą, żeby wszystko przygotować. Pracujemy do godz. 14, lecimy do domu i wracamy na 17, żeby ogarniać próby i przedstawienia wieczorne.
Próby trwają nieraz do godz. 3, czy 5 rano. To zawsze zależy od reżysera. I my musimy siedzieć do końca, żeby kostiumy zebrać i im pomóc. Później znowu lecimy na ósmą do pracy. Ale tak się dzieje tylko w przypadku prób generalnych. Trzeba wrócić i kolejny spektakl przygotować. Kostiumy wyprać, wyprasować, do niektórych zlecić pranie chemiczne. Tego nie da się zrobić na szybko.
Po to są te wszystkie próby, żebyśmy mieli wszystko dograne. W sumie przed każdym spektaklem jest około pięćdziesięciu, sześćdziesięciu prób – w zależności od reżysera, i trzy próby generalne. My musimy w tym czasie się z aktorami dotrzeć i z nimi współpracować. Oni też się tego uczą.
Wszędzie są głośniki, nawet w łazienkach. Musimy cały czas słuchać tekstu. Jak tylko wchodzi przedstawienie, to żeby się z nim "opatrzeć" stoimy w kulisach i patrzymy, ile mamy czasu; czy możemy tutaj przyjść, czy zdążymy zrobić coś innego, czy nie. To wszystko musi być zrobione precyzyjnie. Ja aktora przebieram, fryzjerka zakłada perukę i nie możemy sobie przeszkadzać.
Tutaj już niczego się nie cofnie. Mamy "przebiórkę" w kulisach, co jest sprawą sekundową, i jeśli nie zdążymy jej zrobić, to scena przepada. Zdarza się tak. Nikt tego nie zauważa. To my wiemy i wtedy denerwujemy się, że coś nie wyszło.
Wszystkie kostiumy robią nasi ludzie. Mamy czworo krawców: dwie kobiety i dwóch mężczyzn. O tym, jak wygląda postać, decyduje kostiumolog, scenograf lub reżyser. W "Ślubach" kostiumy i scenografię robi jedna osoba.
Zdarza się też, że kostiumy pękają podczas sceny. Ostatnio dziewczynie poszedł szew. Schodziła ze sceny tyłem.
Kostiumy są szyte na aktorów. Jeśli do spektaklu się wraca albo zmienia się aktor, to robimy nowe. Przy wznawianiu spektaklu, to scenograf decyduje o tym, czy można ponownie wykorzystać stroje i na przykład je tylko poprawić. Teraz, po dziesięciu latach, wznawiamy "Calineczkę", która będzie nowa, ale część strojów będzie z tamtego czasu. I o tym, czy możemy wykorzystać ponownie stroje decydował reżyser, ponieważ tamten scenograf już nie żyje.
Za kulisami musimy się zmieścić z rekwizytorami, montażystami, elektrykami i aktorami. Tam nie ma dużego oświetlenia, są tylko niebieskie przypodłogówki. Kostiumy się jakoś nie mylą, zawsze to jakoś działa. Ale i tak jest kocioł, jak schodzi dziesięciu aktorów naraz i trzeba każdemu pomóc się przebrać, zmieniać makijaże, fryzury itd. My tu, jak krety – wszystko w ciemności.
Akt IV
Życie
– To jest praca rano i wieczorem, w soboty i niedziele. W czasie sezonu nie wolno nam wyjeżdżać. Jesteśmy w gotowości. Za to mamy dwa miesiące wakacji i każde ferie są dla nas.
Do pracy od zawsze docieram pieszo. Mieszkam na Słodowej, więc przez bloki mam kawałek i do dzisiaj kursuję tak cztery razy dziennie.
Czas na rodzinę jest zawsze. Obiady też gotowało się zawsze. Zresztą, do dzisiaj się gotuje. Jak człowiek sobie wszystko ułoży tak, jak trzeba, to da radę. No i trzeba mieć dobrego partnera… Ja miałam łatwiej, bo mój mąż jest inwalidą i zawsze był w domu. Mogłabym powiedzieć, że to w zasadzie on wychował nasze dzieci. Moim zadaniem było sprzątanie, pranie i przygotowanie dzieci do następnego dnia. Dzielenie się obowiązkami bardzo pomagało.
Teraz dzieciaki są dorosłe. Moja córka też tutaj pracuje, ma trójkę dzieci. Też musi sobie radzić, ma dobrego męża i to właśnie jest najważniejsze – wyrozumiały partner.
Akt V
Pasja
Do pokoju garderobianych wchodzi starszy mężczyzna. Serdecznie wita się z koleżankami. – Wszystkiego, co się szczęściem zwie, wszystkim tu obecnym – mówi na pożegnanie.
– To nasz emerytowany aktor – tłumaczy pani Elżbieta. – Zawsze przychodzi się przywitać. W ludziach, którzy tu pracowali, pasja zawsze zostaje. Nasz teatr składa się z ludzi, którzy właśnie ten teatr kochają i chcą tu pracować. Bez pasji człowiek nie dałby rady, to trzeba lubić. Trzeba być jednak trochę rąbniętym, żeby chcieć tu pracować.
Ci, którzy mieszkają w pobliżu, wracają zawsze. Nie ma tak, że ktoś nie przychodzi, czy urywa kontakt. Odwiedzają, na święta przychodzą, na premierach też się pojawiają. Na imieniny, urodziny dzwonią. Jak pracujemy ze sobą po 35 lat, to nie da się o tym miejscu i ludziach zapomnieć.
Epilog
Ukłony i oklaski
Ten reportaż to jedynie kropla w teatralnym oceanie. My jeszcze za kulisy wrócimy, ponieważ zostaliśmy zarażeni przez tych pasjonatów, którym bardzo dziękujemy za pomoc przy realizacji materiału.
Pani Elżbieta oprowadziła nas także po swoich teatralnych zakamarkach. Możecie je odkryć razem z nami…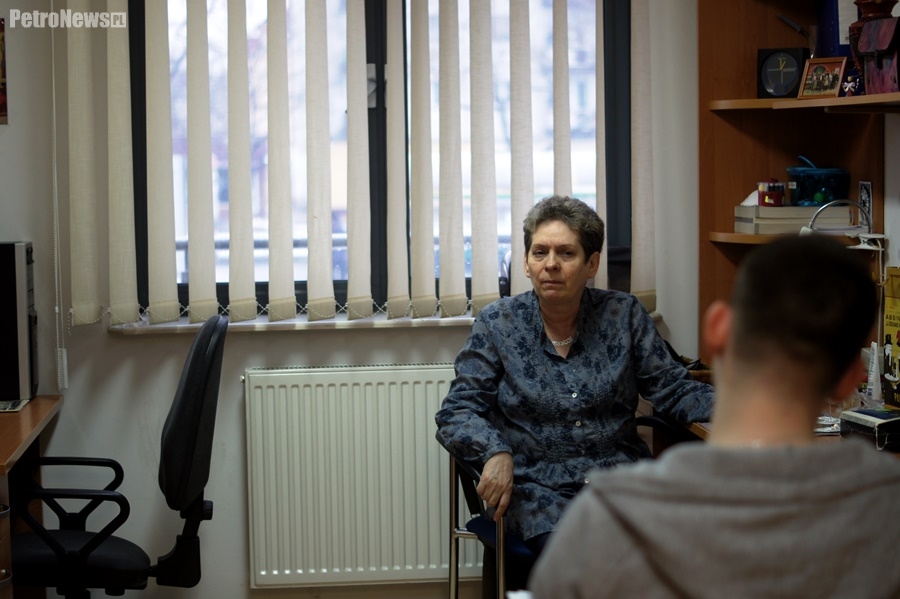 Pani Elżbieta Jóźwiak jest garderobianą w Teatrze Dramatycznym w Płocku. Rozmawiamy z nią tuż przed rozpoczęciem próby generalnej do spektaklu "Śluby panieńskie".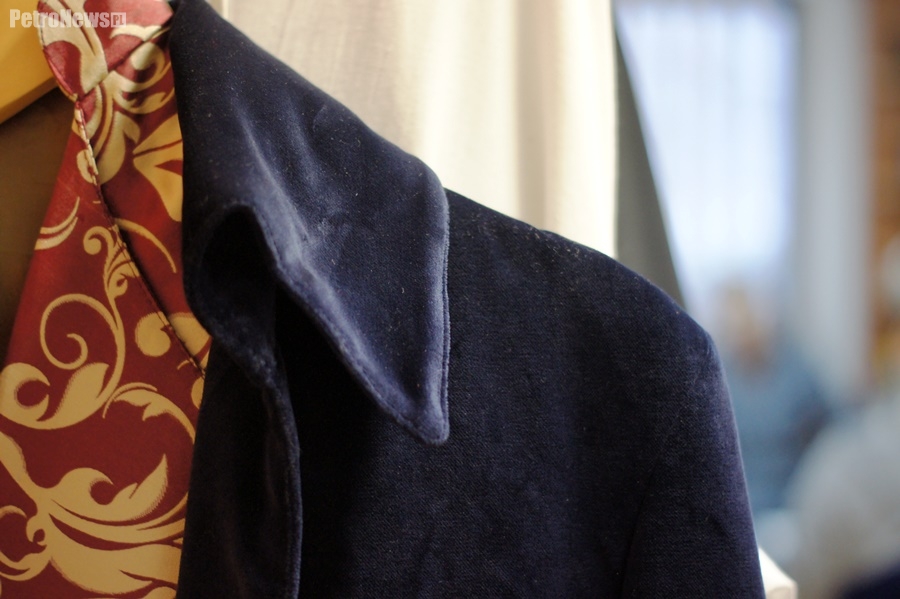 W całym budynku teatru, w różnych miejscach – na korytarzach, w pokojach i piwnicach, znaleźć można kostiumy, które wykorzystywane są w aktualnie granych sztukach. Co się później z nimi dzieje? – Wszystko przerabiają nasi krawcy – mówi pani Elżbieta. – Nic się tutaj nie marnuje, każda rzecz jest ponownie wykorzystana. Taki nasz teatralny recykling.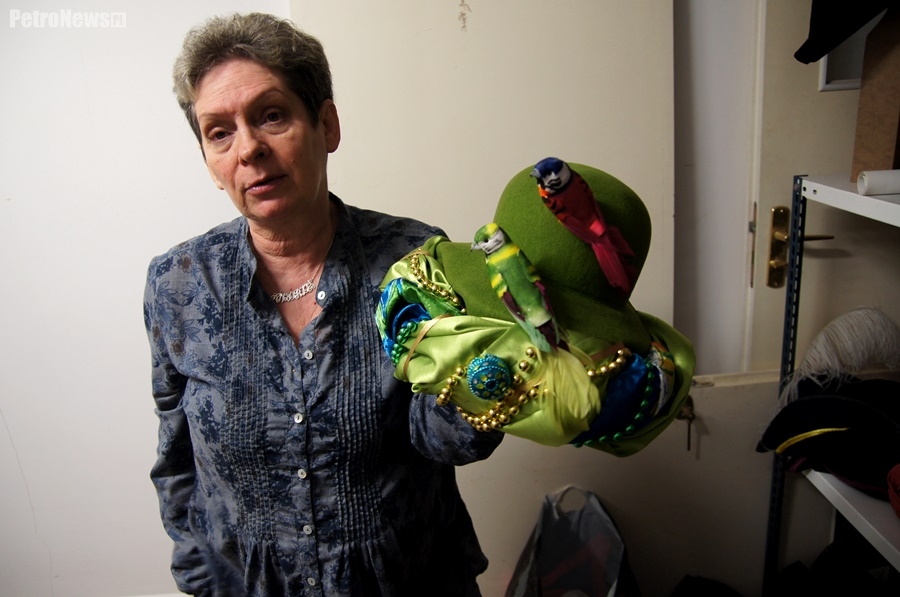 A kapelusze? – dopytujemy. – Też. Ten na przykład jest w całości zrobiony przez nas. Niektóre, te prostsze, są po prostu kupowane. Nieraz wychodzi to taniej.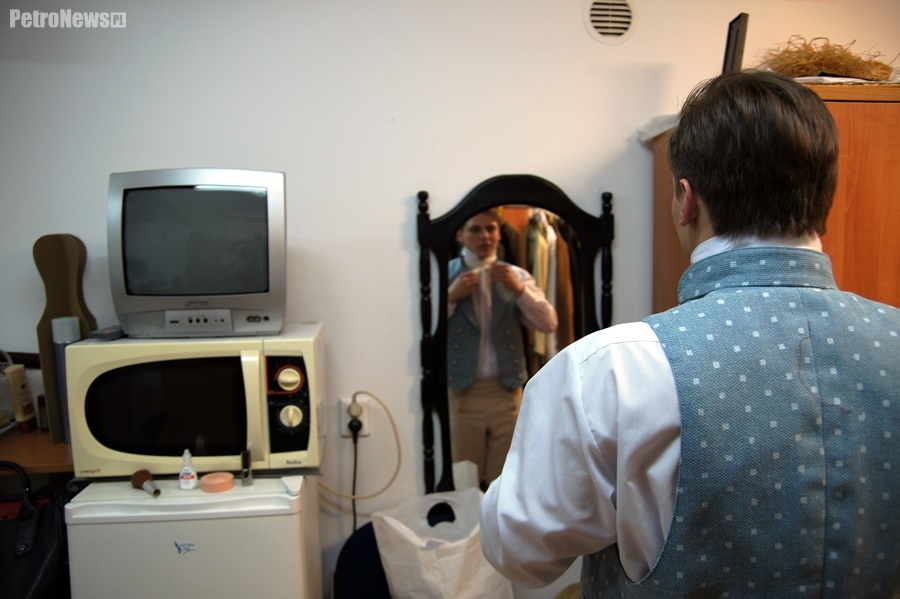 W trakcie rozmowy do pokoju garderobianych wchodzi Przemysław Wyszyński, aktor Teatru Narodowego, który gościnnie gra w Płocku. – Jakąś kokardkę miałem zrobić… Ach… Pięknie zrobiłem, co nie? – odwraca się do nas, wyraźnie zadowolony. Pytany o wrażenia przed premierą, powiedział: – Pocę się na tej scenie, jak mały bóbr w swojej norce, ale jest spoko.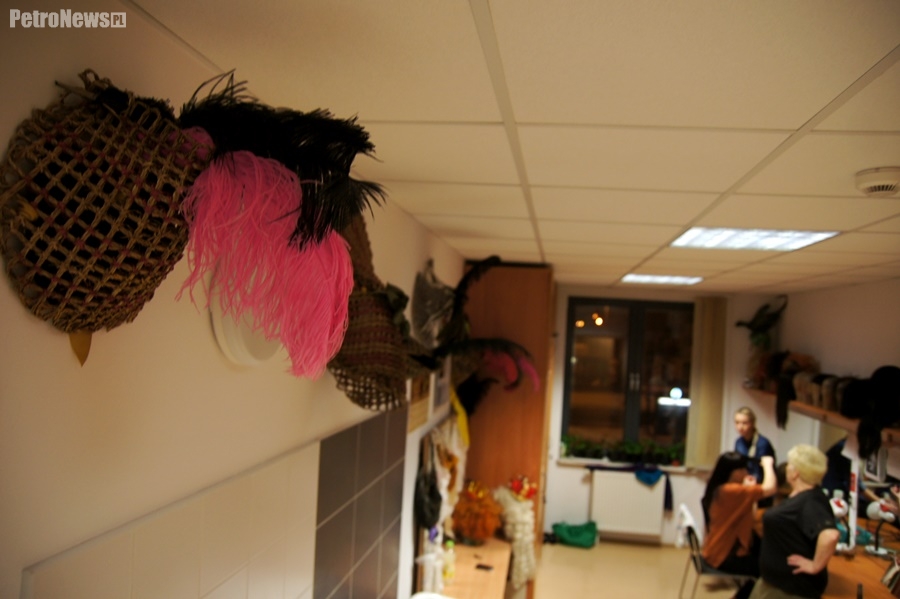 Pani Elżbieta oprowadza nas po swoich teatralnych zakamarkach. Zaglądamy do pracowni fryzjersko-perukarskiej. A tam na ścianie takie oto… pióra.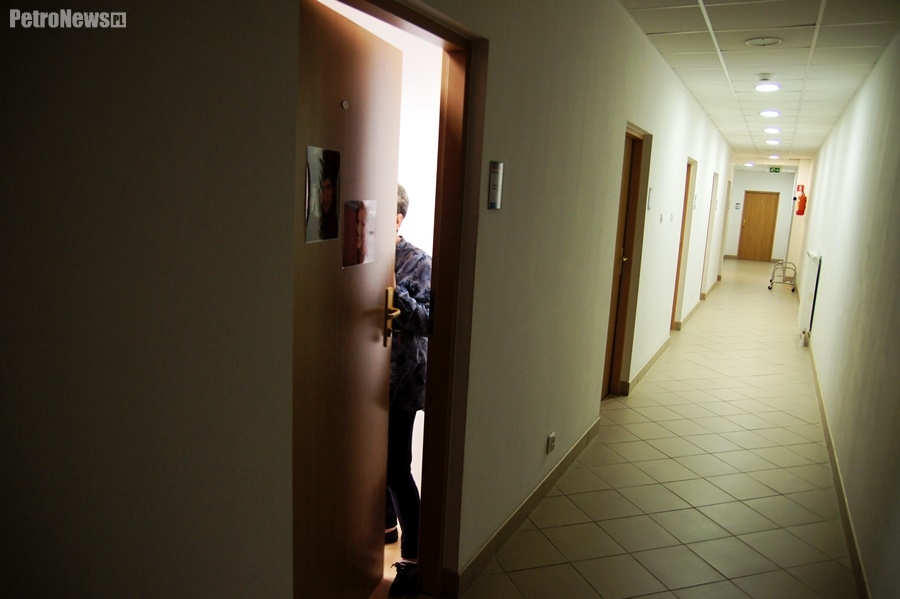 Pani Elżbieta zagląda do pierwszej garderoby. – To tylko ja! – krzyczy. – Tutaj są właśnie nasze artystki.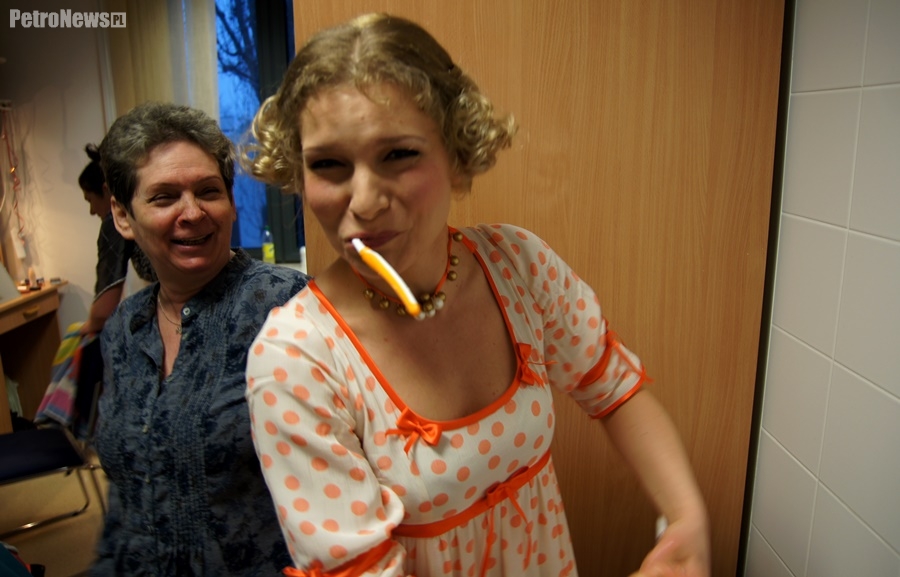 Dziewczyny przygotowują się do próby generalnej. Za chwilę wychodzą na scenę. Atmosfera wcale nie wygląda na nerwową. – Teraz to już nie nerwy, a skupienie – mówią zgodnie aktorki.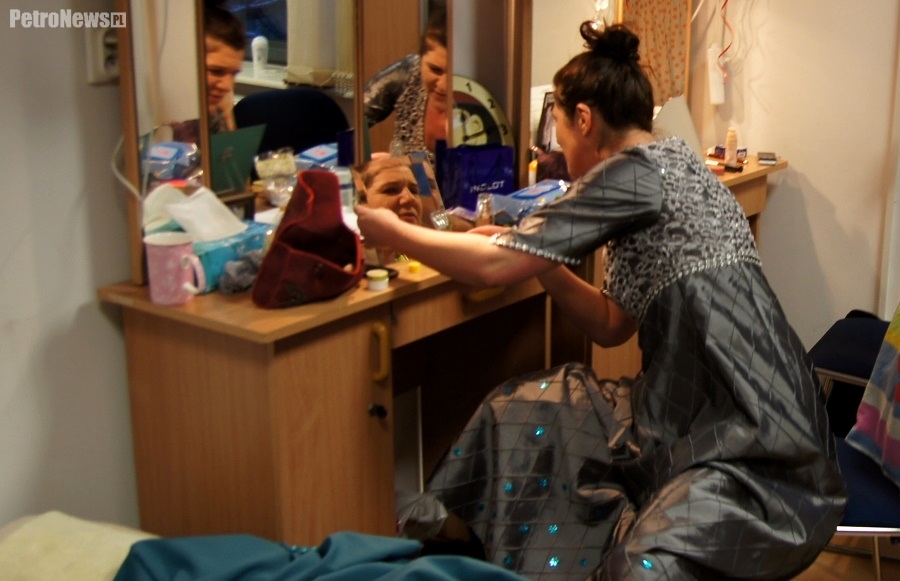 – Ale ja nie umalowana! – krzyczy aktorka Hanna Chojnacka-Gościniak. – Nie szkodzi, to są właśnie kulisy – odpowiadamy.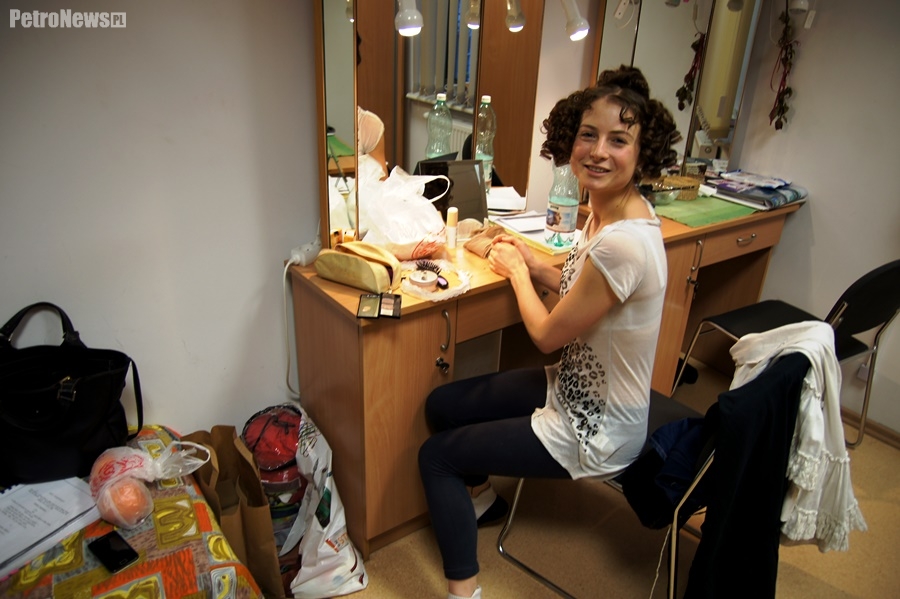 Na scenie rozpoczyna się próba "Ślubów panieńskich". Z głośników słychać kobiecy głos: "Dobry wieczór państwu. Witam na wieczornej próbie. Pierwszej generalnej "Ślubów". Proszę państwa, najpierw tak jak mówiliśmy, będziemy się kręcili, ponieważ telewizja już jest. Proszę się szybko przygotować i zejść na scenę".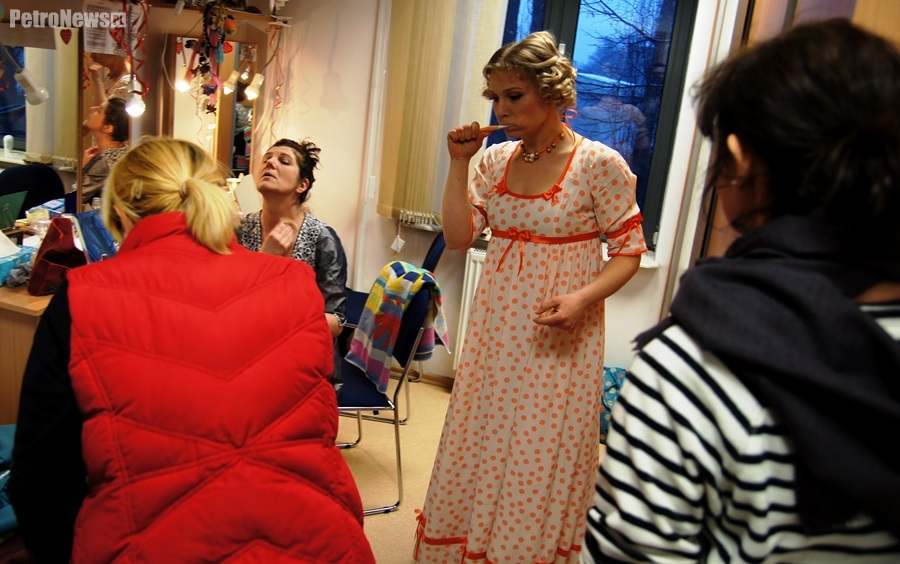 Ostatnie konsultacje ze scenografem. – Zaraz będziemy takie piękne na scenie – śmieją się dziewczyny.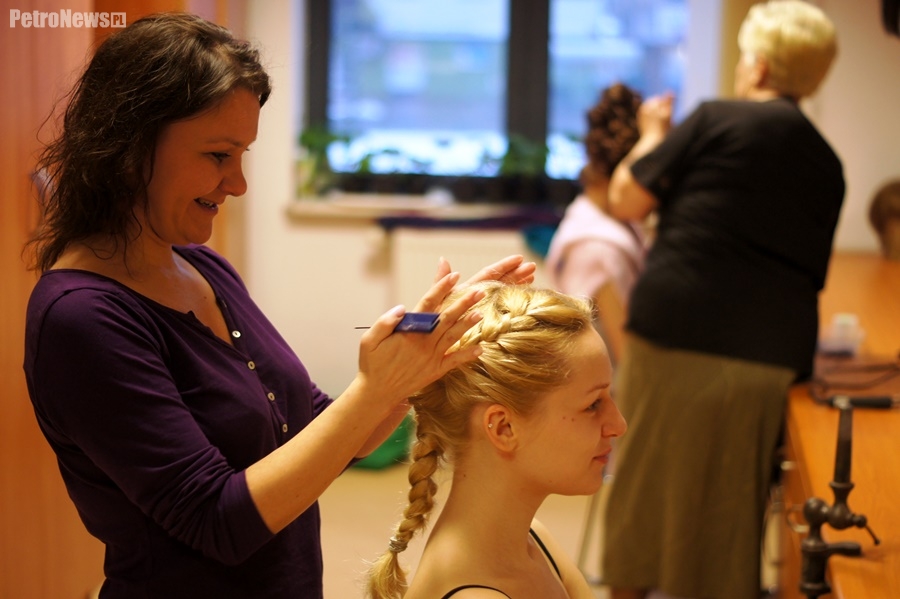 Pełną parą pracuje także pracownia fryzjerska. – Ja mam peruki, które były robione 30 lat temu i jeszcze się nadają – mówi Jadwiga Foryszewska, kierowniczka pracowni fryzjersko-perukarskiej. – Robimy peruki ze sztucznych włosów, ale także z tych prawdziwych. Sztuczne wytrzymują dłużej i normalnie się je myje i farbuje, jak zwykłe włosy.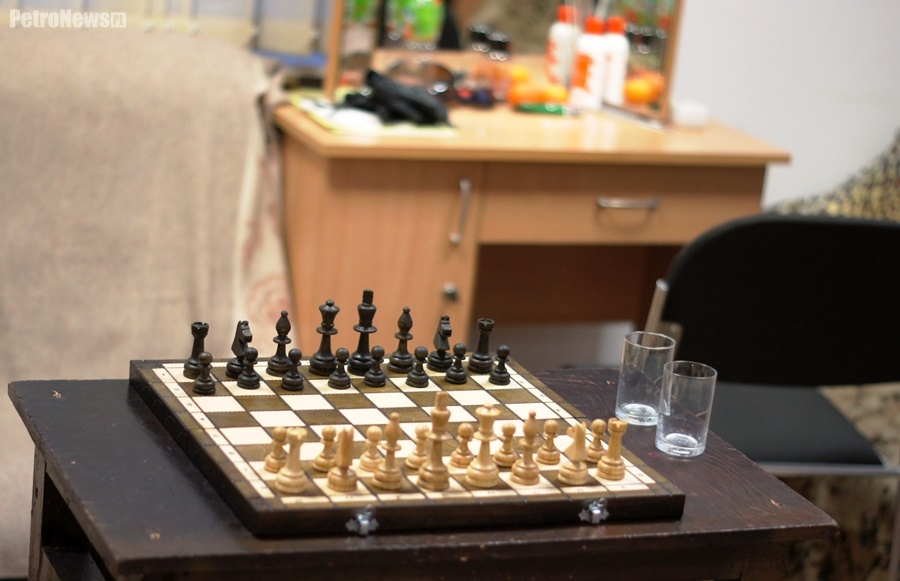 Na pierwszy rzut oka widać, że to garderoba męska. – Dawniej, to w starym teatrze w garderobach aktorzy mieszkali – mówi pani Elżbieta. – Latali po całym budynku w tych papilotach, z dzieciakami… Różne sytuacje się działy. Jak w takim blokowisku nieraz.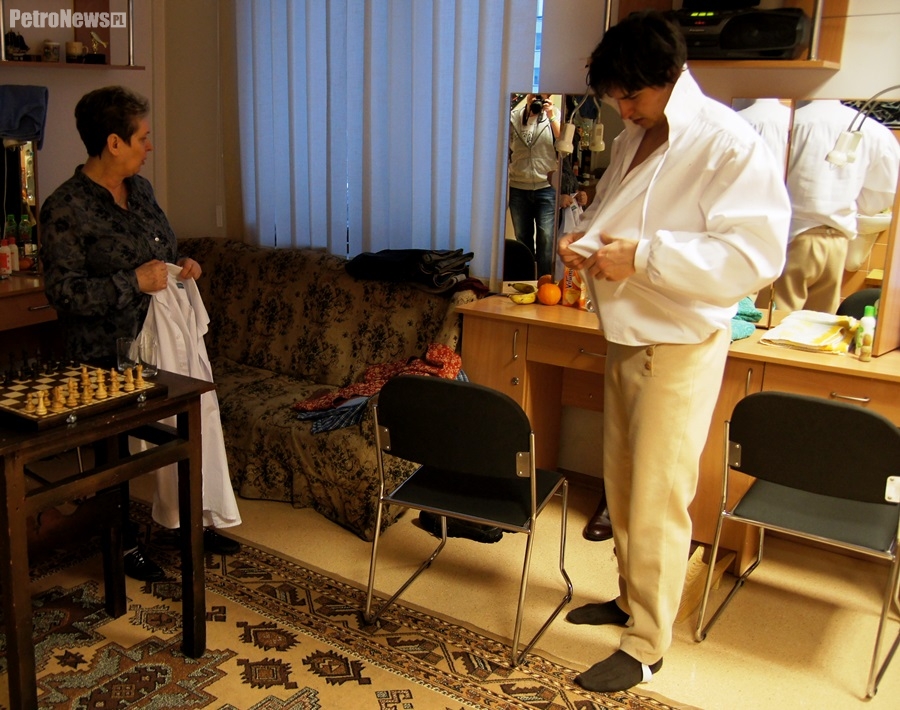 Pani Elżbieta pomaga aktorowi w ubiorze. Najpierw podkoszulka, dopiero koszula.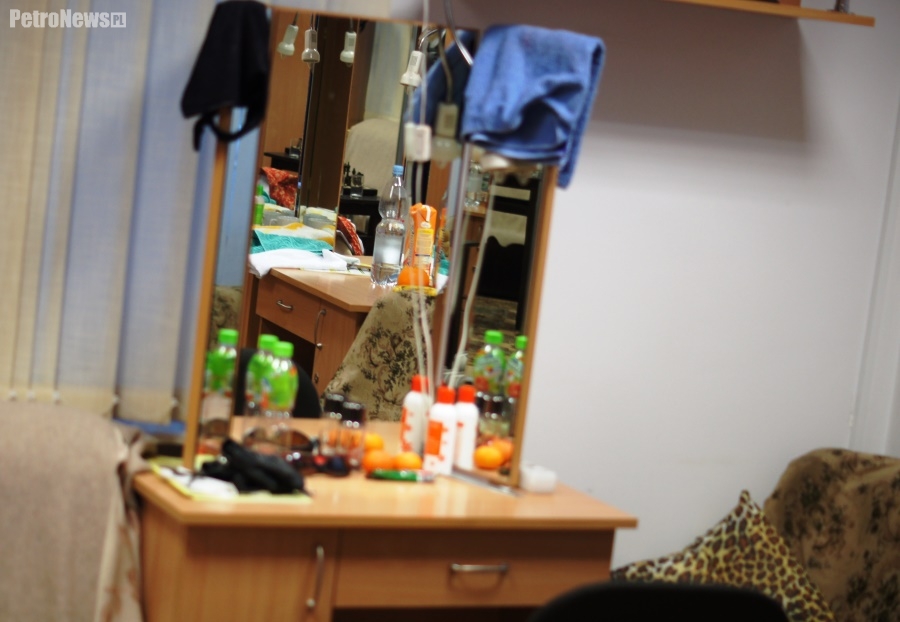 Część garderoby męskiej. – Aktorzy przebierają się w garderobach, w kulisach albo u nas. W zależności od tego, ile ma czasu – tłumaczy garderobiana.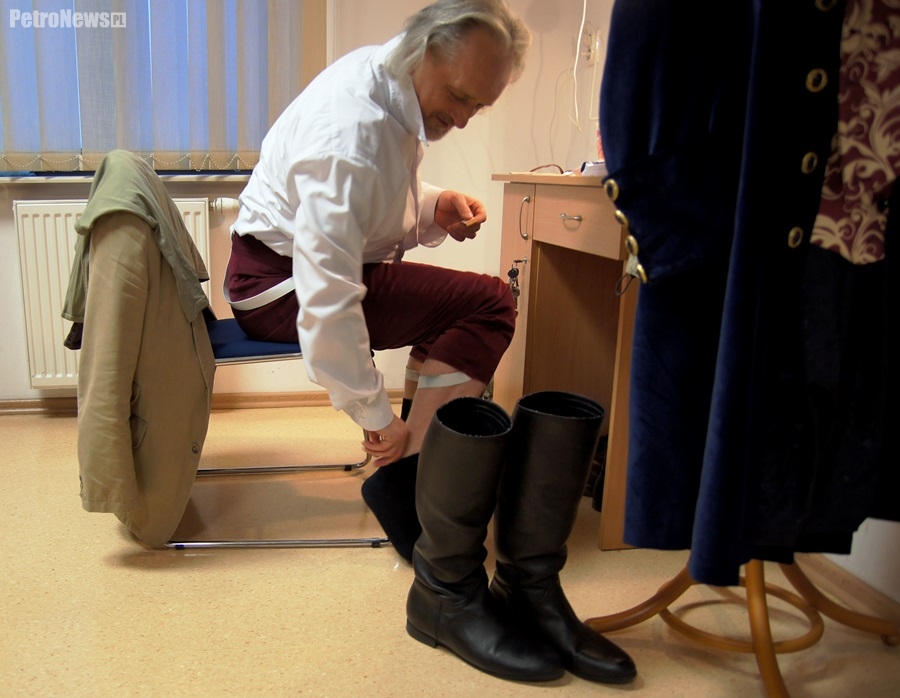 – O proszę, takie buty nam dają! – krzyczy aktor z uśmiechem. – O tu, tu mam rany! Buty teatralne mi nogi zepsuły – dodaje. I rzeczywiście, po chwili odsłania zdartą kostkę, którą zakleja plastrami.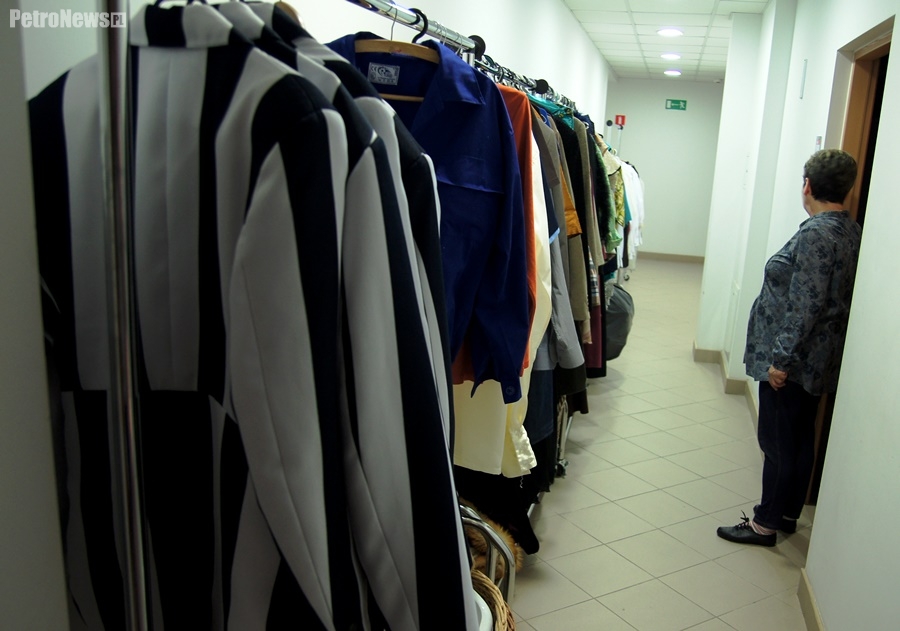 Kostiumy są wszędzie. Wieszaki z ubraniami stoją nawet na korytarzach. – One się już, niestety, nigdzie nie mieszczą. W przygotowaniu mamy kolejne pomieszczenie na stroje, może chociaż część uda nam się tam schować.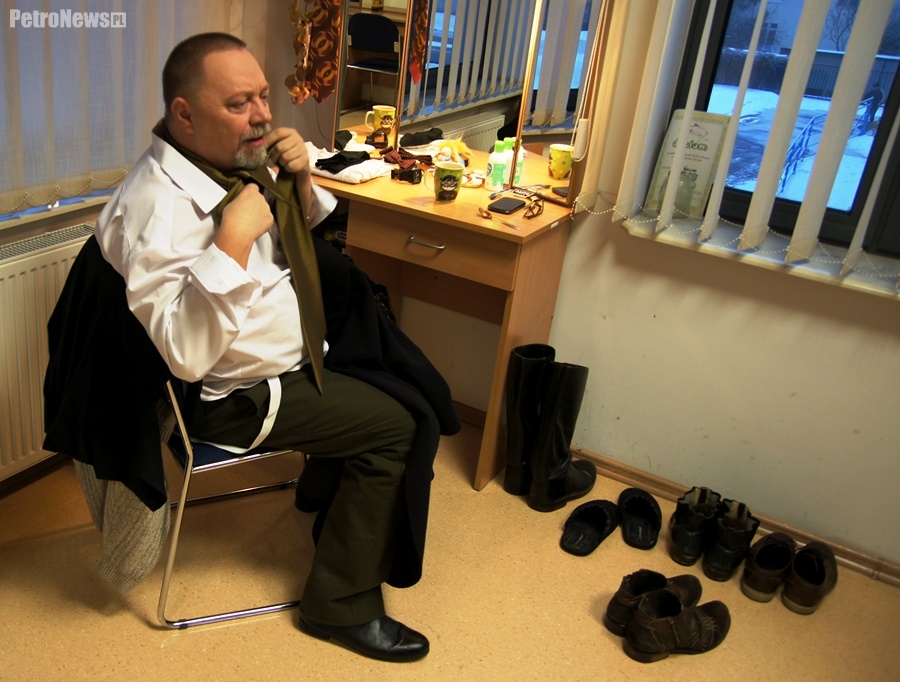 Przed każdą próbą trzeba się przygotować. Nieważne, czy jest to próba generalna, czy nie.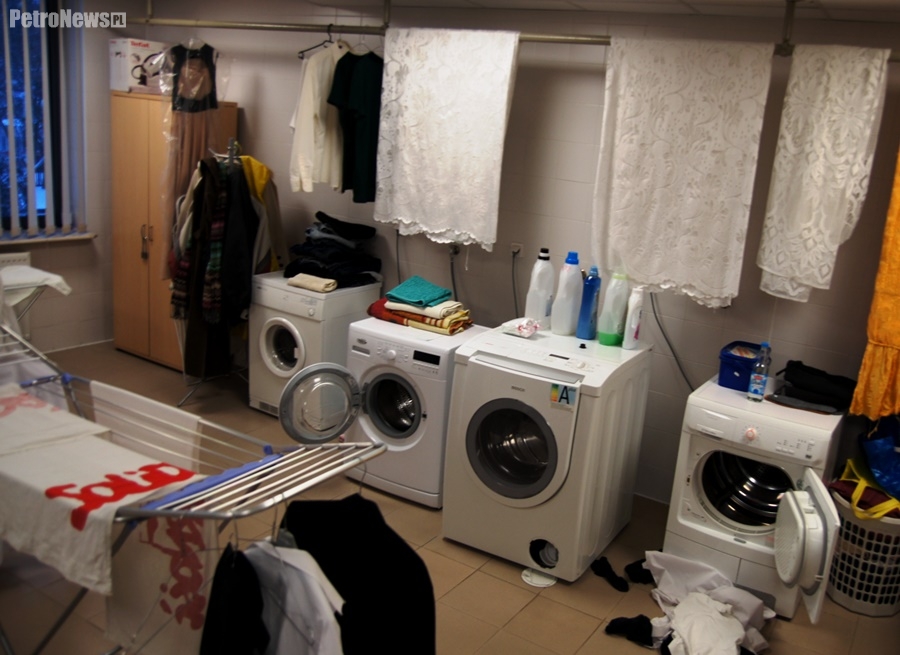 Pralnie są w użytku cały czas. Garderobiane muszą prać kostiumy i rzeczy potrzebne do spektakli.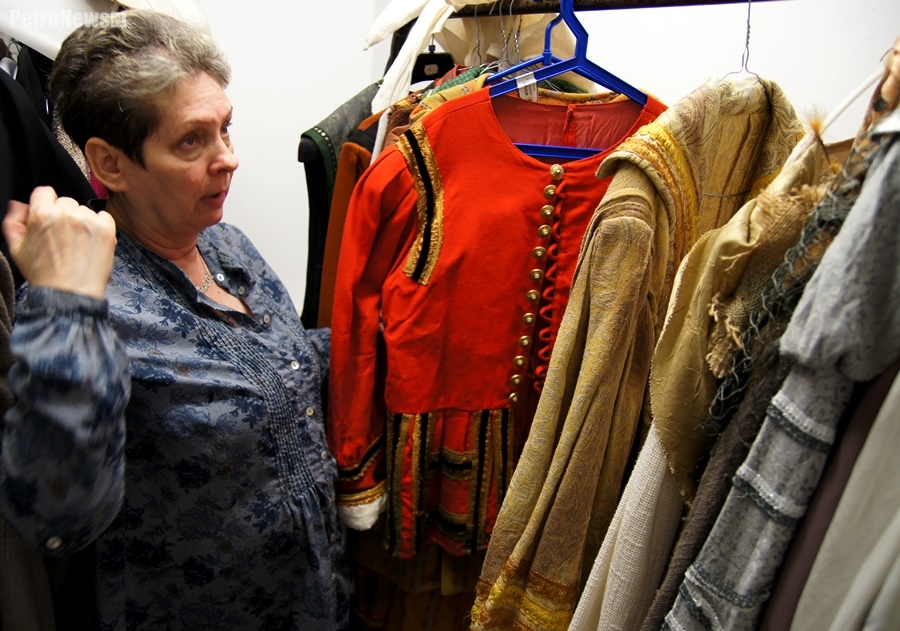 Jesteśmy w magazynie kostiumowym. – Wszystkie te rzeczy są lub będą w aktualnym graniu – mówi pani Elżbieta. – To jest tylko część kostiumów. Reszta jest pod widownią, ponieważ już się tutaj nie mieści.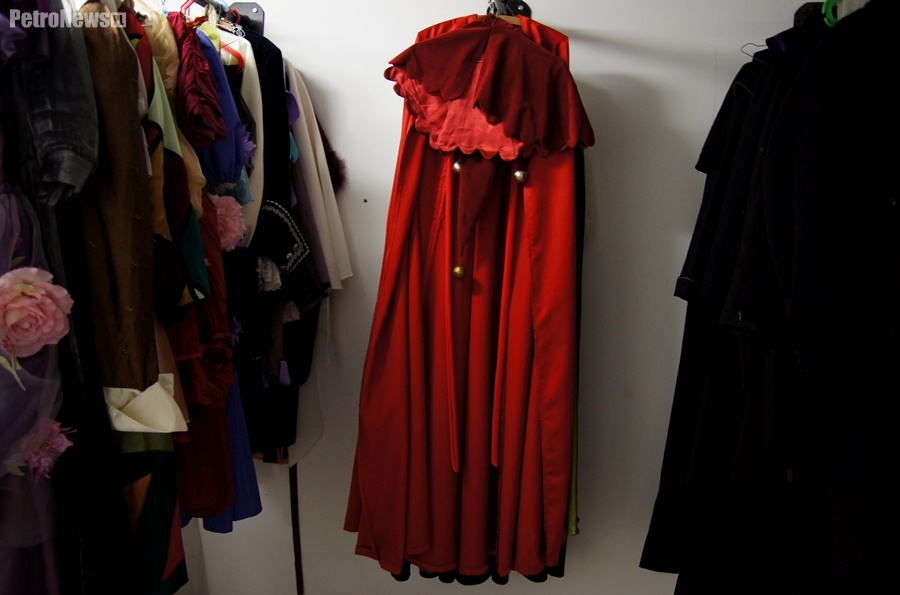 Nad nami jest scena. Pod rzeczami znajduje się mechanizm sceny obrotowej. – To jest kostium Stańczyka, który ma bardzo długą historię. Grał w nim Jerzy Bielecki, niestety, już nie żyje.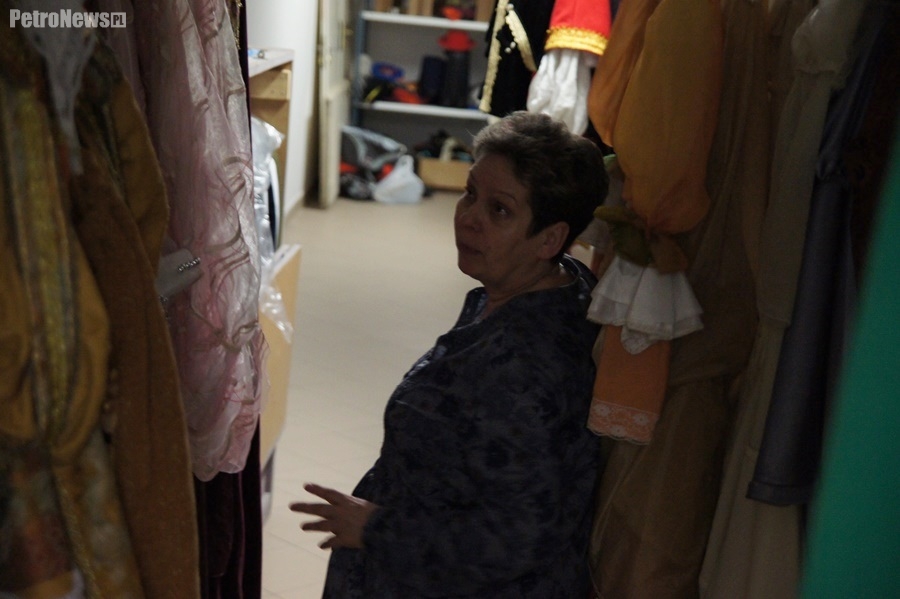 – To wszystko szyte jest przez naszych krawców. Przez ich ręce przechodzą tony materiału.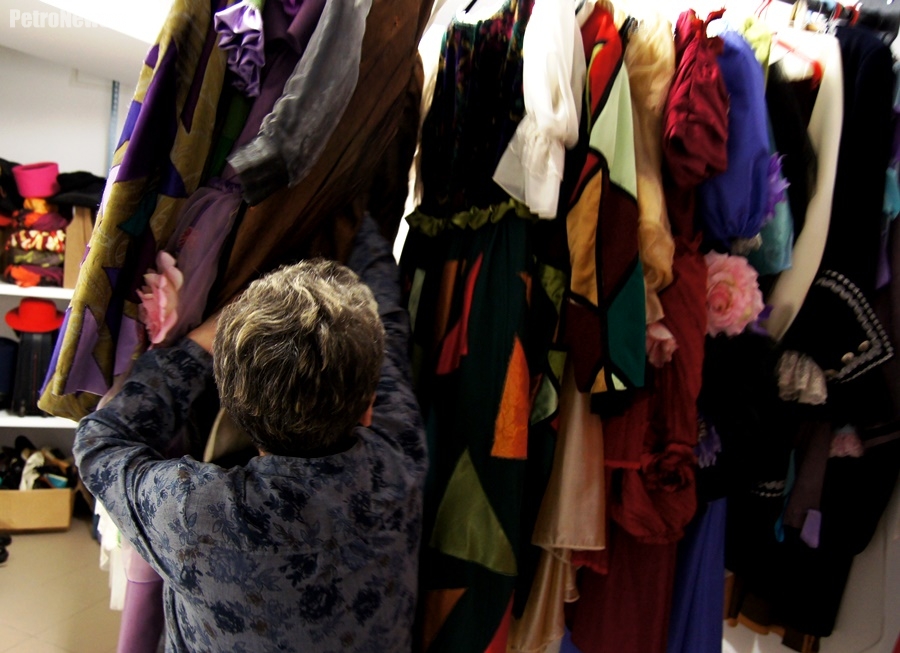 – Wszystko jest szyte, tak ja sobie życzy tego kostiumograf. Od czapki i kapelusza, po pasek.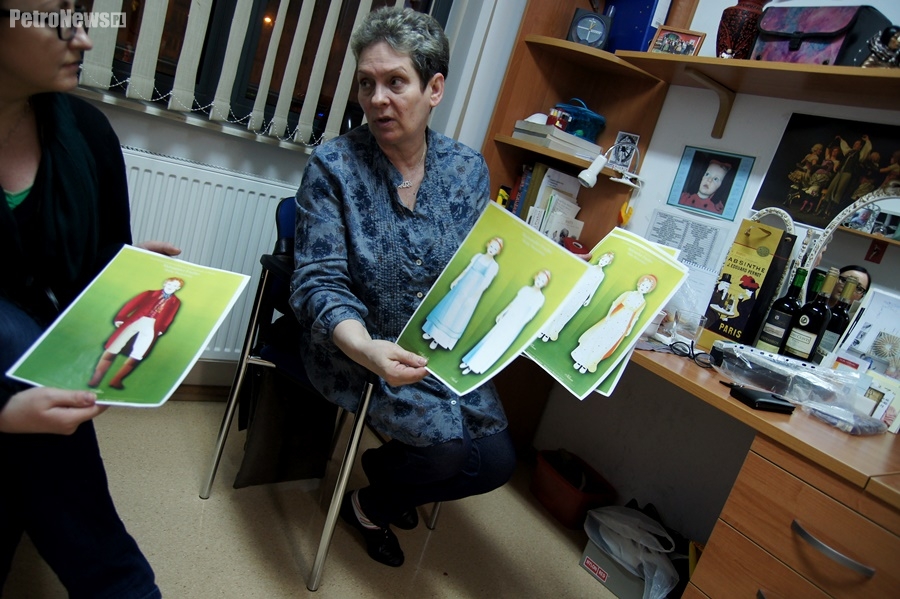 Po zwiedzeniu teatralnych zakamarków wracamy do pokoju garderobianych. Tu, pani Elżbieta pokazuje nam, jak wyglądają projekty kostiumów teatralnych. – Nie zawsze dostaje się takie dokładne szkice. Nieraz są to odręczne rysunki, a niekiedy tylko przekazują nam słownie, jak to będzie wyglądać.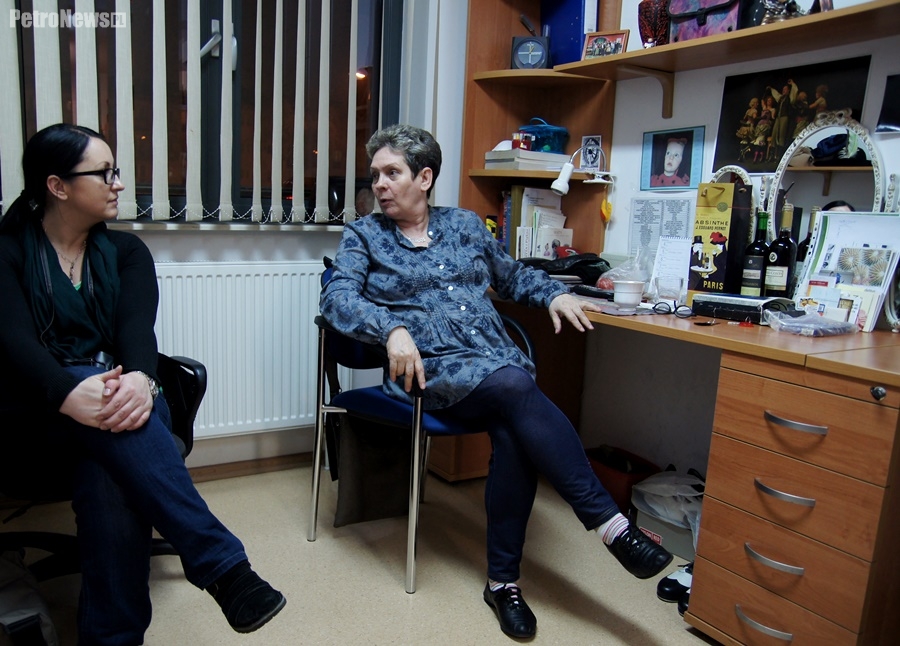 Powoli kończymy naszą pierwszą wizytę w Teatrze Dramatycznym. Za oknem już dawno ciemno, ale jeszcze wychodzić się nie chce. W kilka godzin człowiek zostaje wciągnięty w teatralną pasję.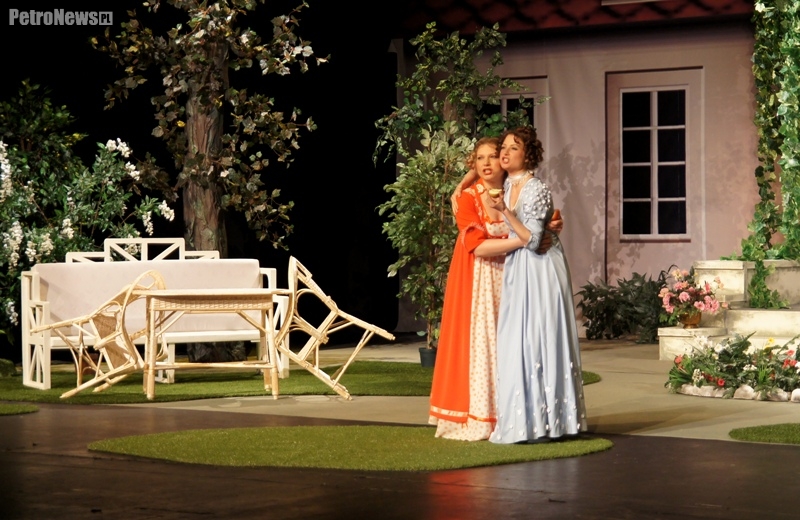 Pokazuje 1 z 1